Edna San Miguel for Congress!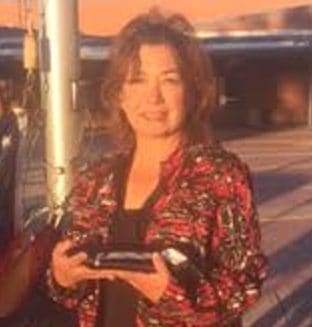 Edna San Miguel
Arizona U.S. Congressional Candidate CD3 2018
*************
Blessings and Shalom!
My name is Edna San Miguel and I am running for the 2018 Arizona, United States Congressional Seat in CD 3 this 2018, against National Socialist Open Border Democrat Congressman Raul Grijalva.
My Federal Congressional run began back in 2015 when I was called out by our Heavenly Father with the beginnings of a soft whispers at the waking of my sleep on two consecutive mornings. "My Daughter you are a National Treasure." " My Daughter you a National Treasure." I then asked, " Father what is it you want me to do?" Within the year I had sold my large home, all of my belongings, and along with my college son with Autism and myself, moved into a small apartment back to Tucson Arizona to prepare my candidacy and attacks against the evildoers in our State and Nation. Psalm 94:16 Who will rise up for me against the wicked? Who will stand for me against those who practice iniquity?
I am a school Teacher and left my teaching profession to run for Congress. I now substitute teach and campaign when necessary. I am an eighth Generation Citizen of the United States of America with an extensive family history in the Americas. My San Miguel family came over with Christopher Columbus on the second voyage back to the America's, landing and settling the island we now know as Cuba. Other San Miguel family members fought alongside Cortez in the battles of Montezuma and his armies. My Territories of authority, battleground, for Yeshua Hamashiach, are that of the State of Arizona, my Father Feldman Aguilar namesake and place of birth, as well as the State of Texas, my mother's birthright, a Sephardic Jew, with great texas historical family and heritage.
My parents came from small beginnings living in the Barrios of Tucson,but with the hopes of improving our lives, my Father worked and attended the University of Arizona to become a school teacher. My mother, brothers and I worked as American migrant field workers in Hollister and Fresno California every summer, from the age of five years and into  my teenage years.  I soon followed my father's lead to become a school teacher and graduated from the University of Arizona and a National Book Author whilstest working for the Guggenheim Museum in the conservation work of the Arts and Antiquities within the Southwest Missions of Southern Arizona.
I live in a Border State, Arizona. I watched the La Raza Unida Socialist/Communist movement take authority in my State of Arizona, as in our school systems, city, county, and federal government. I was compelled by the Holy Spirit of God to expose their evil doings and to take authority back from hateful La Raza 501 C3 Organizations. This rightful position of Godly leadership as a Christian  because of my origin and regional place of birth, will face the battlefields within our Great State of Arizona and Great Nation.
As your Arizona Federal Congresswoman and Nation representative, it would also be my responsibility to protect the future of our youth, future National Patriots and leaders in our long standing sovereign Republic the United States of America.
Yes! on prayers back in school in America. Yes! on mandatory civics classes in every school in America! And Yes! on standing to recite the pledge of allegiance in every school in America!
I aspire to follow the following statement by minister, theologian, and author James Freeman Clarke.
"A politician thinks of the next election. A statesman, of the next generation."

James Freeman Clarke
I also support the Pro Life initiative and will see to the reversal of the 1973 Roe vs. Wade in my time as Congresswoman. In Judaism, life is valued above almost all else. Judaism teachings notes that all people descended from a single person, thus taking a life is like destroying an entire World , and saving a single life is like saving an entire world. Saving the life of the unborn is honoring our Creator who gives Life.
I am a support of President Trump's, Presidential sovereign position of Leadership in Washington D.C. and over the land and home we call The United States of America. I will continue to pray for our President, God fearing Representatives, all throughout the Halls of Congress, in the House all throughout my assignment as Republican Arizona Congresswoman, Edna San Miguel. We are all National Treasures!
May God Bless The United States of America and the State of  Israel, their leaders, pray for the and rise of both Nations as great beacons of light on a hill for all the World to seek, endear and follow it's Judeo Christian Faith, Great Faith in Yahweh Yeshua Hamashiach, Jesus Christ our saving Redemptive King, Lord and Savior.
Sha'alu Shelom Yerushalayim * Pray for the peace of Jerusalem!
Blessings and Thank you,
Edna San Miguel
Arizona United States Congressional Candidate CD 3 2018
Donations accepted out of the kindness of your Hearts.